Betty Bucks
OWN DAUGHTER OF LEAVING MEMORIES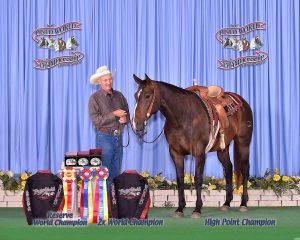 Betty Bucks is a 8yo AQHA mare.  She is an own daughter of Leaving Memories, out of an On A High mare.  She is 15.1, very stout and very powerful.  Betty recently on two World Championship titles and a Reserve Champion title at the Pinto World Show – solid division.  She is a special mare with lots of talent and is only getting better.
She is a true show horse.  When she gets to the show she knows her job, and knows it well.  She make running barrels look easy.  She won't spook at anything either, she acts sensible and composed.
This is a great opportunity to own one of Jeff's very trained horses.