CHILDHOOD
Jeff was raised in a horse family.  Both his mom and dad came from families that were deeply rooted in horses.  Growing up, Jeff's dad, Larry, taught him the value of hard work and shared with him his passion and love for riding.  Jeff's mom, Renee, taught him patience and perceptiveness, and helped nurture various characteristics that have made him the horseman that he is today.  She was a constant perfectionist, and always instilled on him to strive for the best.  These qualities helped give him a thorough understanding of how horses are feeling and what they are thinking.  Throughout his childhood, even after winning at a show, his parents always made sure to always tell him what aspects of his riding he needed to work on, which kept him humble and eager to learn.  The horseman that Jeff is today is in large part due to the lessons learned from his parents.
BUSINESS
Jeff owned and operated the Jeff Damphouse horse training facility in Kingsville, Ontario, Canada for 27 years.  After training horses since a child, Jeff purchased this facility at the age of 28, and officially made it his base of operation.  The state of the art training facility offered 36 stalls, a training track, indoor and outdoor arenas, among other amenities.  He successfully ran the training and boarding operation until his recent relocation to Oklahoma.  Living so far up north and running a full care boarding and training operation, made competing at the top level in the United States a challenge.  His move to Oklahoma has given him the opportunity to show more.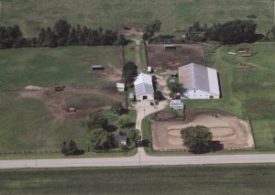 PHILOSOPHY
For Jeff, horses aren't just about riding, they are a way of life.  He has realized over the years how important it is to take care of you mind and body.  Riding and handling a horse should require tremendous amounts of discipline, and being aware of your every movement.  Riding is about being fair to the animal beneath you, and asking the horse to listen, instead of demanding it.  Jeff truly believes that the way a person rides and handles a horse is a reflection of themselves.
Another important aspect of Jeff's philosophy is being open-minded, and keeping a willingness to learn.  Jeff feels as though he always has new things to learn about horses and riding, and strongly encourages others to keep the same mentality.  It's important to remember to listen to your horse, because only then you will be able to continue to learn and understand your horse.
WORKING WITH HORSES
Jeff has been showing competitively since he was five years old.  He began taking in outside training horse when he was only 10 years old.  From a young age, he had a deep understanding of what a horse needed, which made it easy for him to train horses, and  even to deal with behavioral issues.  Jeff turned those talents into a career, and has competed professionally in many shows throughout North America.  He has had a very versatile career, training in a wide range of disciplines, from western events to show jumping to racing and more.  Jeff has proved that no matter what type of discipline you choose to do, the basics of good horse training are all the same.  This is what has enabled him to successfully train horses in many equine disciplines.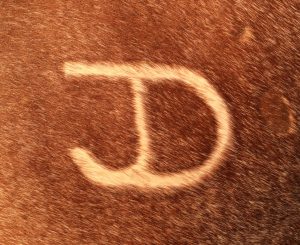 Jeff's brand.  It is always located on the left hip of a horse.  If you see this brand, it means the horse was trained and/or owned by Jeff at one time.